Which SEO Factors Are Out of Your Control?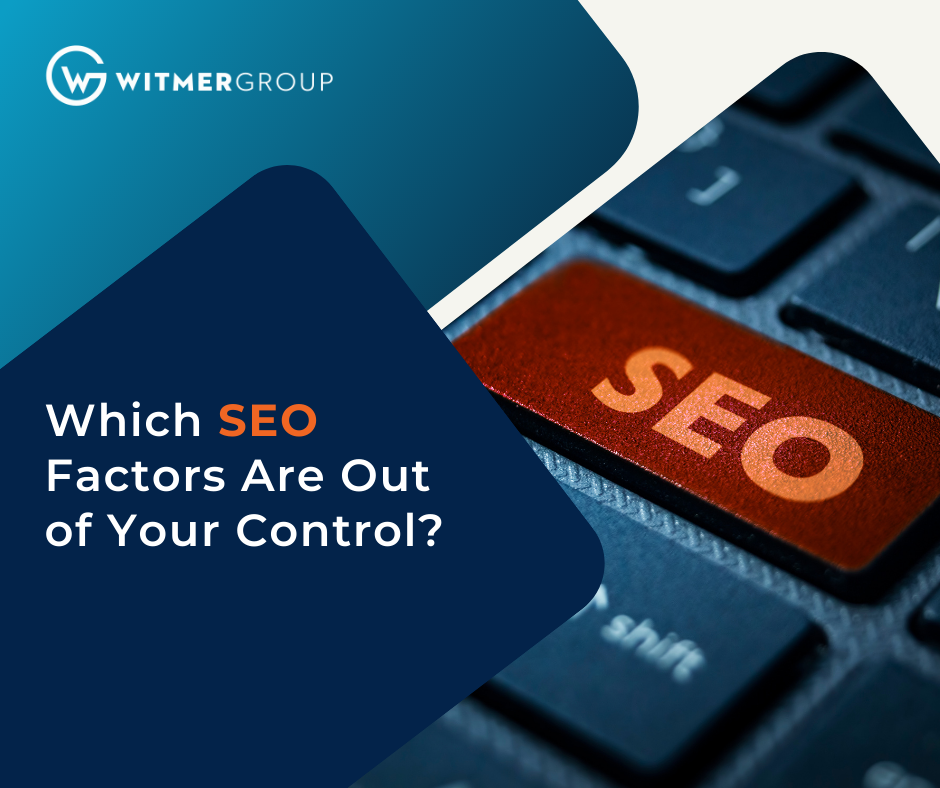 Since the early days of the Google search engine, website owners have been trying to figure out how to get their websites ranked higher in the organic search results—some more successfully than others.
At the end of the day, it all boils down to one hard fact:
You cannot control Google.
Nobody (outside of Google engineers) knows exactly how to get—and keep—a website ranking #1 on page 1 in the organic search results.
However, there are several things that you, as a business website owner, can do to give your site the best chance at ranking higher.
Read on to learn more about the SEO factors you cannot control, and how best to manage them.
Algorithm Changes
The algorithm that powers how Google rankings websites is one of the most complicated ever created. It's actually several algorithms built on top of each other—and worked on by some of the smartest people out there.
Google changes its algorithm regularly. In fact, in 2020 alone, they made around 4,500 algorithm changes and ran upwards of 600,000 experiments. Many websites saw fluctuations in their traffic and rankings whenever a new algorithm was released.
Takeaway: While you cannot control the ranking algorithm, you can control how much you optimize your website to give it the best chance of not being affected by future updates.
Competitor Efforts to Outrank You
Remember that your competitors want to rank #1 in Google just as badly as you do. As such, it stands to reason that they're optimizing their websites and performing as much—if not more—SEO than you are.
For example, suppose your competitors are regularly (weekly) publishing excellent content on their blogs and websites. In that case, there's an excellent chance that other authoritative websites are linking back to their website.
While some people claim that links are becoming less of a ranking factor, that day has not yet fully arrived. Therefore if your competitors are regularly adding high-quality content to their websites that cause other websites to link back to them—there's an excellent chance their website is outranking yours.
Takeaway: While you can't control what your competitors do, you can control what you do. In other words, start writing high-quality content and regularly posting it to your website. You're not a good writer? Then hire a professional writer to do it for you.
The Effect of Paid Ads on Your Online Visibility
The amount of money that you spend on paid Google ads does not affect how well your company website gets ranked in the organic search results. Google paid search and Google organic search are two completely different things.
Takeaway: Paid ads don't affect your organic search rankings. It's as simple as that.
Spam Links
Whether it's your competitors or a random spambot, your company website might receive more than a few spam links from "questionable" neighborhoods such as gambling or pharmaceutical companies.
If you get too many spammy links pointing toward your website, Google could penalize it. Fortunately, you can disavow those links in Google Webmaster Tools, but that can take time.
Takeaway: Focus on building high-quality, relevant links from authoritative sources, and you won't have to worry about unscrupulous competitors or spammy online bots.
Ranking Time for Keywords
Certain keywords are more competitive than others. As such, the chances of getting your company website to rank higher for competitive keywords can take a lot longer than for non-competitive keywords.
For example, the keyword "mortgage refinance" is highly competitive because it is highly profitable. A website just starting out will have an extremely hard (if not impossible) time getting ranked quickly for that keyword.
However, a longtail keyword such as "Purple widget with aluminum antennae" will probably be a much easier keyword to get your website ranked for.
Takeaway: If the main keywords that you liked your website to get ranked for are too competitive, consider choosing more specific long tail keywords that offer a far greater chance of success.
SEO and Marketing Help
When it comes to SEO, there is a lot that you cannot control. However, you have to take control over what you can control—such as optimizing your website, regularly publishing great content, and building links.
At the end of the day, it all boils down to the highest SEO goal ever: 'Be the ultimate authoritative source of information and answers for your target audience.'
At Witmer Group, we specialize in helping our clients create high-quality content and optimize their websites for SEO. Click here for a free guide to SEO, or click below if you're ready to learn more about how we can help your business make a bigger digital impact.