How to Optimize Your Landing Pages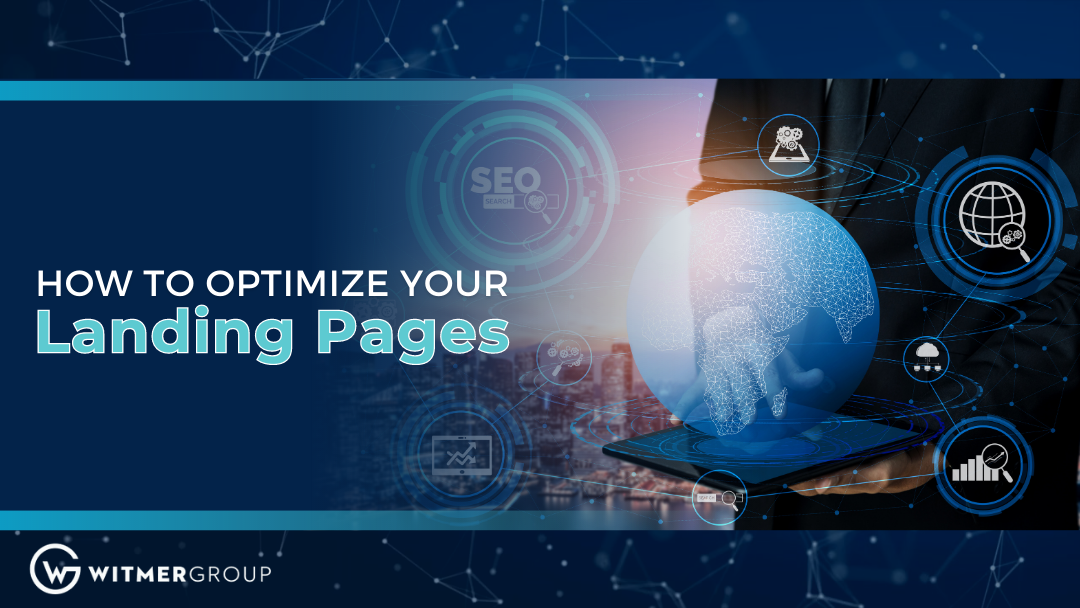 Inbound marketing is a strategy that uses various tactics to attract customers and prospects to a product or service. One key component of inbound marketing is optimizing landing pages. A landing page is a page on a website that visitors "land" on when they click a link from an email, social media post, or another form of advertising.
Read on to learn more about optimizing your landing pages to increase traffic and conversion rates.
What Makes Landing Pages Effective?
Landing pages are designed specifically for customers who have clicked on an ad or link that contains specific keywords related to the company's products or services. Creating effective landing pages involves more than just throwing up basic information about the company—it requires thoughtful design, compelling visuals, and relevant content in an attractive format.
Some key elements of successful landing page design include:
Clean layout—Make sure the layout is clear and easy to navigate. Avoid using too many visuals, as this can be distracting for visitors. Keep text above the fold, so it's easy to read without scrolling down too far.
Relevant content—Provide visitors with content that is concise yet detailed enough to explain what visitors will get when they click through from the landing page. Highlight features and benefits in simple language that resonates with your target audience.
Calls-to-action (CTAs)—CTAs should stand out, so visitors know where to go next without searching for them on the page. Use contrasting colors and clear language like "Learn More" or "Sign Up Now" so there is no confusion about what you want people to do next.
Compelling visuals—Add visuals such as images and videos that support the message on the landing page and make it more engaging for users. Make sure all visual elements look professional and match your branding guidelines.
Tracking analytics—Set up tracking analytics so you can measure how well your landing pages perform in terms of clicks, conversions, time spent per visit, etc., then adjust accordingly if needed based on results from testing different elements such as CTAs and visuals.
Benefits of Optimizing Landing Pages
There are numerous benefits of optimizing landing pages for businesses, including increased visibility among prospects, improved customer experience, higher conversion rates, lower cost per lead acquisition rate (CPL), better SEO ranking, etc.:
Increased Visibility—You can increase the visibility of your website by creating targeted campaigns with keywords related to your products, services embedded in ads, links attached to emails, or sponsored posts on social media platforms like Twitter and Instagram.
This increases exposure among prospects who may not have otherwise found you online organically—especially if they weren't searching specifically for what you offer.
Improved Customer Experience—Optimized landing pages provide clear direction when people arrive at your website via an ad or link attached to an email sent out by your team members.
This allows you to create a more positive customer experience, as people will know exactly what to do and where to go once they land on your website.
Higher Conversion Rates—An optimized landing page increases the likelihood of customers converting instead of arriving on your site and not seeing a clear route. It's incredibly important to provide as clear instructions as possible throughout all contact points to increase the chances of them becoming legitimate paying customers.
Landing Page Optimization Tips
When it comes to optimizing landing pages for greater success rates upon visitation – there are certain best practices every business should consider embracing via implementation into their current methods/strategies adopted when planning any sort of digital marketing campaign:
Write compelling copy—Ensure simplistic yet effective callouts within content used across all communications. Highlight only key value propositions instead of cluttering material with excess words & phrases, which may detract readers' focus away from the main primary objectives.
Decrease loading times—Ensure faster loading times across devices (desktop, tablet, mobile) used by prospective customers will provide an enhanced user experience. It will allow visitors ample time to browse various sections/pages to digest the required information/product.
CTA buttons—Position call-to-action buttons prominently and beyond the introductory banner or page header. Ensuring they call attention to each unique keyword phrase being highlighted helps minimize distractions. This will aid in providing a clear path to the goal of the landing page (click to call, click to email, buy now, etc.)
Utilize video clips effectively—Integrating short video content clips (less than 1 minute) will add depth to the landing page and increase conversion chances. Be sure to host the clips on a reliable service provider and ensure the loading times of the video(s) are fast. No one will want to wait 10 seconds for a video to load.
A/B testing—Routinely run tests employing A/B split framework and regularly optimize different landing page elements as test results dictate.
Let Witmer Group Help with Your Inbound Marketing
Witmer Group develops processes, content, and workflows to support lead generation throughout the buyer journey. We create high-quality content that targets buyer personas specific to your business offerings.
Click here to learn more and download a free inbound marketing eBook.