Marketing for Technology Companies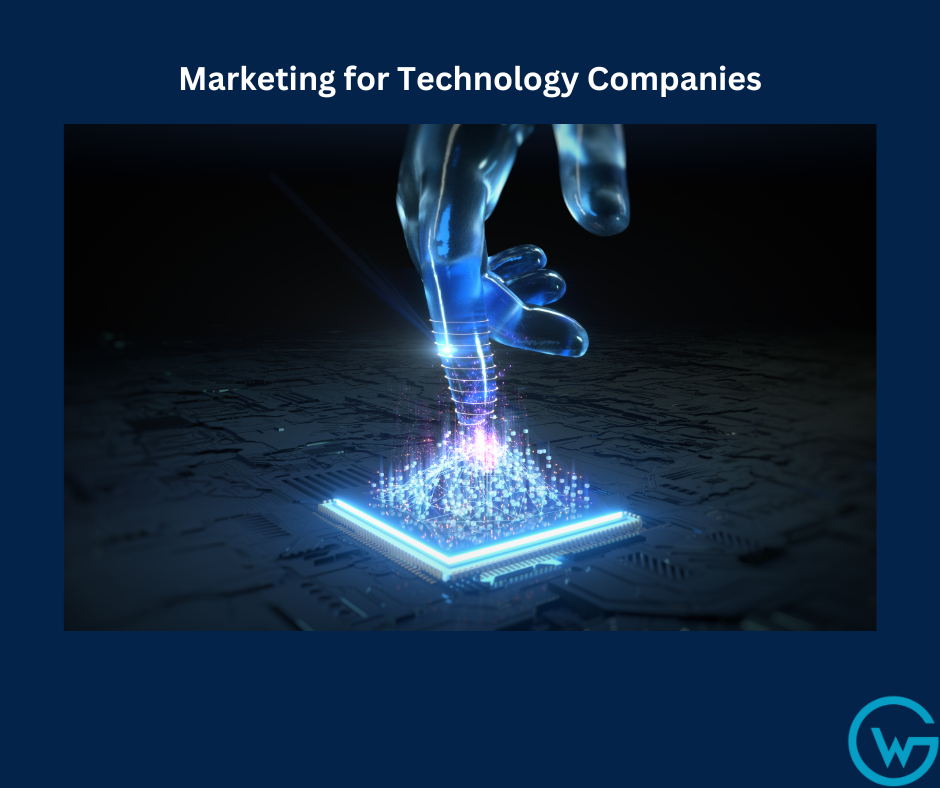 Effectively marketing your IT company means staying on top of the latest trends, technologies, and customer demands to ensure a steady stream of new leads and clients.
However, one of the biggest challenges of marketing your software or technology consulting business is staying relevant in an ocean of competitors—many of which already have an established social media or web presence.
Read on to learn more about 7 marketing strategies for your IT consulting business that will allow you to reach and engage your target audience, build brand awareness, and ultimately grow inbound traffic, leads, and sales.
Content Marketing
Before you can drive traffic through social media or search engine marketing, you must ensure there's valuable content on your website for them to consume. Take a few to perform a self-audit and ask yourself how well you're currently performing content marketing on your site.
Here are a few questions to get you started:
Are you regularly posting valuable and informative content to your company blog?

How long are your blog posts—only a few hundred words or more than 600? Google can penalize web pages with little to no content.

Are you optimizing your blog posts and internal web pages for keywords that your target audience is interested in?

Do your website's product or service pages have ample content and images—or do they have "thin content"?
Chances are you might need to start creating better and more helpful content for your blog and website. Here are a few tips on effectively performing content marketing for technology companies:
Keyword research—Research keywords your clients would likely use when searching Google for your products or services. Does your company website rank within the first three pages of Google search results?
Also, consider the difficulty of ranking for those keywords. For example, if your company is relatively new, you might have considerable competition from competitors firmly established in the industry. In this case, you might want to consider chasing after long-tail keywords or keywords that don't have high search volumes but instead have high search intent.
Add quality content—Once you have a keyword list, you can create new content. If you currently have existing blog posts that only have a few hundred words each, consider editing those to add more useful and authoritative content.
In addition to your company blog, pay close attention to your website's internal pages. For example, how much content do you have on your service/product pages? Google tends to favor web pages with at least 500 words of content.
Video "Buyer's journey for your prospective customers"
Establish Your IT Company as a Thought Leader
As a B2B IT consulting business, you, your co-founders, and your employees are probably some of the brightest people in the proverbial room—yet does anyone know that?
Work on establishing yourself and/or your company as THE thought leader in your industry. You can start by optimizing your LinkedIn profile and connecting with your target audience and other industry stakeholders.
Share case studies or blog posts you've created on your LinkedIn account. Over time, people will come to think of you as a thought leader, especially when you engage with their LinkedIn posts.
Consider signing up for speaking engagements at trade shows, professional organizations, and local or national media outlets. You can also sign up for a free Help A Reporter Out (HARO) account.
Countless media outlets (CNN, Fox, Bloomberg, ETC) use HARO to find experts like yourself. If chosen as an expert, your responses (and business) could be featured in a news story.
Video "Dallas Marketing Agency"
Go Big or Go Home
Conferences and trade shows are where you should shine your very best. Try to attend at least once per quarter and have a booth once (or twice) yearly. Yes, trade show booths can be extremely costly, but the brand recognition you'll get is invaluable.
For example, Witmer Group helped Enkitec, an Oracle Tech Stack Consultancy Group, increase their brand recognition through a Monty Python-themed tradeshow booth and street spectacle at an Oracle trade show.
Witmer Group went as far as hiring local actors to don Holy Grail costumes and ride Segways ("Knights on Segways") while performing guerilla marketing outside the event. The event was so successful that one of the Oracle VPs came to the Enkitec booth to congratulate them and ask who did their marketing.
In the B2B IT consulting world, it pays to go big at tradeshows and conferences.
Grow Your Social Media Presence
Social media marketing for technology companies has far evolved beyond making a few posts here and there that are tagged with keywords. To succeed in marketing your B2B IT consultancy business, you'll need to identify your audience, which social media platforms they use, and then create valuable content they will engage with.
Here are a few tips on how to grow your social media presence:
Interact with your audience and industry influencers. There's no quick and easy way to do this—you'll need to take the time to engage people in intelligent conversations.

Make sure that you've optimized your social media profile. This includes ensuring it accurately matches your company branding and that you've completed all of the necessary profile info.

View social media as more of a branding opportunity than a lead generation machine. Prospective clients will inevitably look at your social media accounts—ensure they're on point.

Consider creating a social media account for your company's thought leaders. People want to engage with other people instead of nameless, faceless brands. However, this doesn't mean you should kill your brand accounts. Keep both running and have each one interact with the other.
Witmer Group recently helped MedSys Group, a Dallas based Healthcare IT Services company, increase unique visitors to their website by 664%. We created a social media game plan that included a new hashtag and tagging strategy, a content calendar, and several other tailored initiatives that successfully drove traffic and engagement to the MedSys Group website.
The new hashtag and tagging strategy helped MedSys Group expand their online presence and connect with a broader audience interested in healthcare IT services. This was achieved by identifying and utilizing industry-specific hashtags and tagging influencers and related accounts in posts, increasing visibility and attracting a new audience to the brand.
Our content calendar focused on sharing informative and engaging content that showcased MedSys' expertise in healthcare IT services. The calendar included a mix of industry news, tips, case studies, and thought leadership articles, which were strategically scheduled to align with trending topics and conversations within the healthcare IT sector.
Analyze Your Competition
Take a good hard look at how your competitors market themselves. Look at what keywords they rank for, sign up for their marketing communications (using an anonymous email, of course), and see how they've designed their websites to improve lead generation and conversion rates.
Compile a list and determine what they're doing right and attempt to emulate it. Chances are, if they're investing a ton of money in a particular marketing channel, it's probably paying off exceptionally well. Consider following suit and testing it out.
Determine Your Ideal Audience
Gather as much data on your clients as possible, then create one or more buyer personas. You can accomplish this by having conversations with your sales team and customers. Determine potential pain points and how your product(s) or service(s) can solve those problems.
The more data you can accrue, the more accurate your buyer personas will be. Your marketing department can then use that information to guide the development of high-quality content for your blog and website—content that directly speaks to your ideal customers and demonstrates how your products or services can solve their problems.
Improve and Develop Your Brand
When you consistently follow a specific process, you will set up your campaigns for success. The biggest mistake businesses make is assuming that they have already done certain stages and jumping ahead. You should continually view and reevaluate your processes based on new information learned.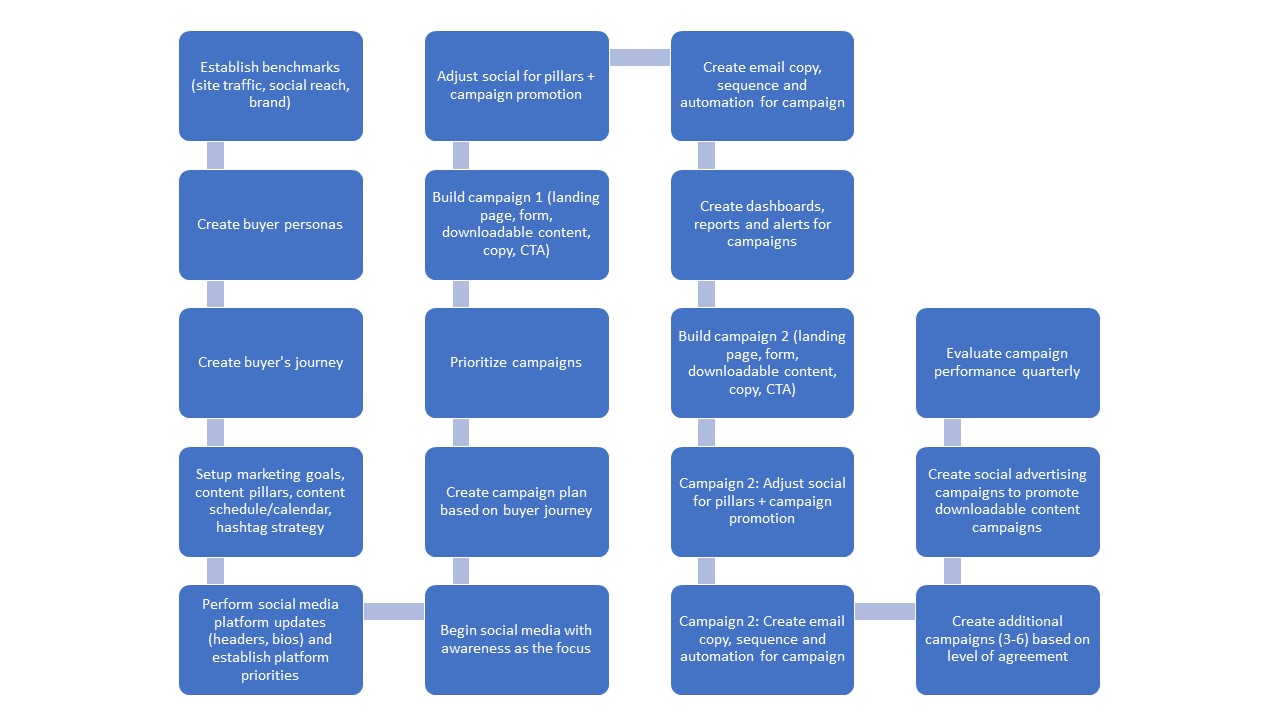 Conclusion and CTA
Witmer Group develops processes, content, and workflows to support lead generation throughout the buyer journey. When you partner with us, our content will target buyer personas specific to your business offering and enhance your entire business pipeline.